Salt Spray Testing
PreTreat's experienced technicians provide our customers with  salt spray testing to check the corrosion resistance of coated samples.
Ensuring Corrosion Resistance
Coatings provide corrosion resistance to metallic parts made of steel, mazak or brass. Since coatings can provide a high corrosion resistance through the intended life of the part in use, it is necessary to check corrosion resistance by other means.
Salt spray test is an accelerated corrosion test that produces a corrosive attack to the coated samples in order to predict its suitability in use as a protective finish. The appearance of corrosion products (oxides) is evaluated after a period of time. Test duration depends on the corrosion resistance of the coating; the more corrosion resistant the coating is, the longer the period in testing without showing signs of corrosion.
Our salt spray testing provides rapid results to help you check and improve your coatings corrosion resistance. Contact our experienced customer services team to book in salt spray testing for your samples.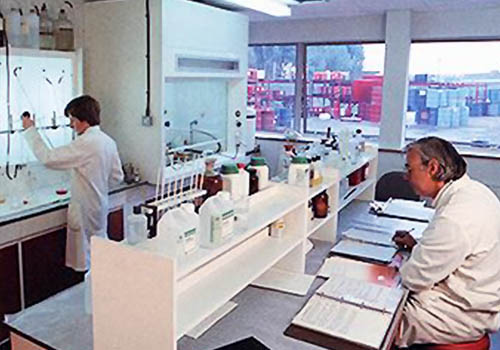 Total Breakdown
The salt spray test has
lead to a total breakdown
of the coating
Galvanised Steel
The salt spray test has
lead to a failure
around scratches
Powder Coated
Failure on
powder coated steel
Blister Formation
Blistering during
salt spray testing
Clear Coating
Clear coating tested
during salt spray testing
Mild Steel
Powder coated mild steel
holding up against 
salt spray testing
Test Your Coatings Performance
Our Salt spray testing service is popular because it is low cost, quick, well standardized and reasonably repeatable.
There is, however, only a weak correlation between the duration in salt spray test and the expected life of a coating, since corrosion is a very complicated process and can be influenced by many external factors. Nevertheless, salt spray test is widely used in the industrial sector for the evaluation of corrosion resistance of finished surfaces or parts.
The images to the left show examples of our salt spray testing performed for our clients to assess the performance of their coatings and systems.
Typical coatings that can be evaluated with this method are:
Phosphated surfaces (with subsequent paint/primer/lacquer/rust preventive)

Zinc and zinc-alloy plating (see also electroplating). See ISO 4042 for guidance

Electroplated chromium, nickel, copper, tin

Coatings not applied electrolytically, such as zinc flake according to ISO 10683

Organic coatings

Painted surfaces with an underlying hot-dip galvanized coating can be tested according to this method. See ISO 12944-6.

Hot-dip galvanized surfaces are not generally tested in a salt spray test (see ISO 1461 or ISO 10684). Hot-dip galvanizing produces zinc carbonates when exposed to a natural environment, protecting the coating metal & reducing corrosion rate.

The zinc carbonates are not produced when a hot-dip galvanized specimen is exposed to a salt spray fog, therefore this testing method does not give an accurate measurement of corrosion protection. ISO 9223 gives the guidelines for proper measurement of corrosion resistance for hot-dip galvanized specimens.